The Gift of Travel-
Explore Manhattan,NYC
Gift of travel,explore New York City, so much to see and do in this great city..You will see that you never runs out of things to do, and enjoy. You will also be able to shop for gifts and souvenirs as you walk around Time Square ,and other surrounding areas.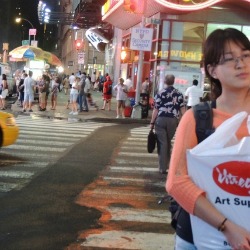 Gift of Travel -Little Italy  Italian Neighborhood,NYC
Do you want to buy some Italian gifts in NYC?(preferable food imports?)then check out the Italian neighborhood. Where you will find lots of imports.
You will also find  authentic Italian restaurants. Little Italy is  located in the vicinity of North of the Houston. You can get there if you enjoy walking,but also  
Take the #6 subway downtown to the Spring Street station.
Walk East 2 blocks to Mulberry Street.
OR Take the M103 bus on Lexington Avenue down to Grand
Street and walk West 3 blocks to Mulberry Street.
Take the N or R subways downtown to the Prince Street
station. Walk East 3 blocks to Mulberry Street.
OR Take the F or V subways downtown to 
the Broadway/Lafayette station and walk East 4 blocks
to Mulberry Street and then walk south.
Explore New York City Chinatown-Gift of Travel
Perhaps you Want to explore and shop for some natural remedies gifts? then Explore NYC Chinatown. Where you can find some interesting shopping ideas to bring back home.
You will also locate authentic china restaurants.  Chinatown is located in lower Manhattan from the canal street section. To visit  there from Manhattan's east side.....
Take the 6 train to Canal Street station and the 4 or 5 
train to Brooklyn Bridge From Manhattan's west side.
Take the B or the D train to Grand Street station
From Queens, and take the Z train to Canal Street.
From Brooklyn, take the D,B,N,Q,R,J,M, and 6 trains all 
stop at the Grand Street or Canal Street station.
As  you travel around  Chinatown, you will also observe several unusual items being sold, including knockoffs, Take the...
M-15 bus runs south on 2nd Avenue to Chatham 




Square.

The M-102 and M-101 run south on Lexington 
Avenue to Bowery Street to Chatham Square. 


The M-6 bus runs south on Broadway to Canal Street

.to observe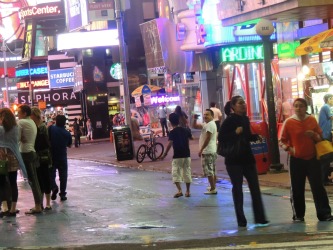 Enjoy a visit to Greenwich Village, a New York City Village 
Mark Twain Home, 14w 10th street
The Chumley's 86
Washington square park

Henry Hudson Park
The Narrowest House in New York
William Hyde house located at 429 North 7th Street
Church of st Luke
church of the ascension
NYC free walking tours may be right for you.

Enjoy  a Highline walking tour New York city. On your travel, You may also want to visit the sophisticated Historic Harlem, neighborhood.
Here you will find the Famous Apollo theater where all the fantastic black super start were discovered and shine.
The Apollo theater is located on 253 West 125th Street New York, NY 10027,(212) 531-5300
Take the A,B,C OR D TRAINS TO 125TH and walk a 
little over a block to the theater.
Or take the 2 or 3 TRAINS to 125th street and walk
a blocks or so to the theater.
Gift of Travel-Explore  New York City Theaters...
If you wish To visit all or most of the theaters  in New York City, it may be virtually impossible, considering your limited  time.
However if you are truly ambitious, and theater is your passion, here are a few:
The Neil Simon theater located at 250 West 52nd
Street New York, NY 10019 (212) 757-8646,
Take the 1,9,C,OR E TRAINS to 50th Street, then
walk East to 52 Street to the theater to enjoy your travel gift.
Broadway theater that has several location, M
theater located at 729 7th Avenue New York,(800) 276-2392.
The Richard Rodgers theater,located at 226 West 46th Street New York,
NY,10036(212) 221-1211.
The Radio City Music Hall located at 1260 6th avenue. Take the B,D,F
to 50th street Rockefeller Center.
The Opera House

located at 64st and Broadway,
take the 1 train to 66th street.
The Lincoln Center located at 10 Lincoln Center Plazas, take the 1 train to 66st,or the 1,A,B,C,D TO 59TH ST, Walk to 62st and Columbus avenue.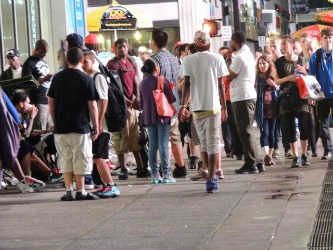 I do not know of any one who have traveled to New York,and have not visited at least one museum.
If you have time,you probably want to visit a couple  museum yourself, and explore New York City with your NYC travel gift to the fullest extent.
The Metropolitan Museum of Art, located at 6 
East 82nd Street, Manhattan, NY,(212) 570-3964.
Take the 4,5,or 6 TRAINS to 86th Street and 
walk three blocks west to Fifth Avenue.
The Whitney Museum of American Art, located at
Gift of Travel for 
Endless Shopping in New York City 
New York City is a fabulous City To shop. You can find great bargains if you know where to go, some  street stores,(such as 34th street,Delancy street.
You can also check out Blecker street). If you are planning to shop high end, you will find high end department stores located on 5th Avenue, such as:
Tiffany and company, located at 727 Fifth Avenue 57th Street
FAO Schwarz Located at 767 Fifth Avenue 58th Street
Bergdorf Goodman located at 754 Fifth Avenue 57th and
58th Streets.
Lord & Taylor 424 5th Avenue
Other New York City Shopping Areas from Gift of Travel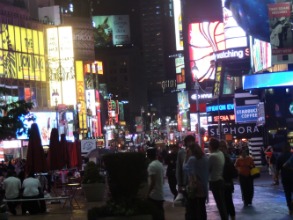 Barneys New York Located at 660 Madison Avenue 61st Street.
Bloomingdale's Department Store Located at Lexington Avenue.
between 59th and 60th Streets.
Disney Store located at 1540 Broadway 7th Ave. & 46th Street
Manhattan Mall located at 100 West 33rd Street.
Macy's Department store located at Herald Square, between 34th
and 35th on Broadway.

Gift of Travel to Explore Central Park in New York City ...
You have always heard of  Central Park,and want to experience the park for yourself. Then go ahead and have some fun..Much to explore in Manhattan.
Your can also tour central park  with a tour group. Rent a bike in the park or bring your own if you travel with one.
You may also want to visit Riverbanks State Park, NY as you explore New York City.
Did you know that while you explore New York City and have some fun, that you could  write down all your experience then convert them to a business? Turn your  experience into a successful business.
Gift of Travel-Gift Yourself  An Incredible Gift

 

 



I gift myself with this wonderful gift and created this website. You too can created your own idea website.
Nori was 14 years when she built her first Solo Build It website from her vacation experience with her family to Anguilla.  Now her website, Anguilla beaches.com has become a successful business.  
This gift is called:Solo Build It! Build your own profit making website,  (make revenue from your site). As you explore New York City.