NYC Travel Gift -
For Fun and Profit
A NYC travel gift,is  a gift that you will appreciate and truly enjoy.
I love New York, is not just a cliche, I (truly love and enjoy this City),I love traveling  there on just a spur of the moment shopping,or getting away from my daily life  for a day.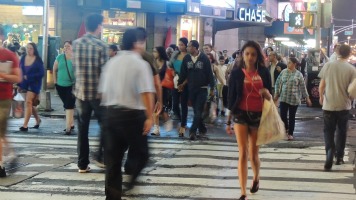 New York is a charming sophisticated city that everyone going there will enjoy,(if they know  how to navigate themselves safely in the Big Apple). 
It's a city that never sleep, and is exciting in the daytime as well as the night,If you haven't discovered yourself yet,(perhaps
New York  City is the place to go and do so)- but be very careful,know where you are going and staying first before entering such a vast City.
Visit The Surrounding Boroughs of NY
If you have time  on  your hand while visiting Manhattan. Why not visit the surrounding boroughs of NYC too.
Brooklyn shopping area, Queens,(Jamaica Avenue),Staten Island,and  shop the Bronx,(Fordham Road) have some interesting shopping landmarks,You can find some fantastic  bargains at some these locations.
Whenever I  visit New York City,I would actually spend several hours exploring Manhattan.Then other times,I would visit a borough.  Shopping in Manhattan is time consuming,(because I may have to visit a museums and see a show,(so if you are visiting,(have a plan).
Whatever you want to get accomplish,try to stick with it.    I always feel like I'm starting  my NYC adventure for the first time,every-time I visit), I'm  never bored.
How does one get a NYC travel gift? perhaps.
Your Mom, Dad,family or friends gift you a trip to the Big Apple

A special someone gift you..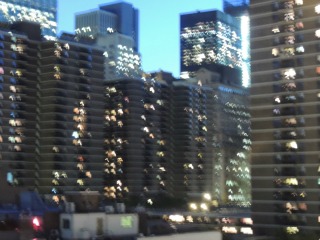 New York City-Best Travel Gift 
When you arrive in New York City,or prior to getting there, it's a good idea to (arrange for a tour),but it's not mandatory.
You will be taken to numerous fantastic land marks,(places  that you can visit by yourself later). Just remember to write down point of interest,and how to get there in appropriate time by yourself.
Plan to enjoy yourself to the ultimate. (Do not just sit in your hotel room enjoying your rest, or just to go out to eat)even though that's important too. Go out and explore,have fun in the City. 
Travel Like a Pro with NYC Travel Gift 
When exploring NYC on your own,you probably may




feel uncomfortable asking questions,(but don't




be. Even myself,still ask directions for street




numbers or something).
I do not just ask anyone on the street -(more than
likely,s/he may be a visitor too). But I will ask a
peddler or someone with a food stand,or even a
confident looking individual.
When I am at the

Subway,

I still ask questions to
verify my directions with the

Boot clerk,or train




conductor

( the conductor normally hanging out
at one of the windows in the train,when the train stop).

I feel safe walking in NYC.  I take the bus, often board the subway,
and occasionally utilize  the taxi
So even though I may act like a pro,I still need help here and there,while visiting NYC,(still I utilize my NYC travel gift with pleasure). 
So don't be afraid to accept a NYC travel gift by yourself,(to travel alone). Because you feel that you will be lonely. Perhaps you're terrified that  you may be a target for criminals?I have good news for you.
NYC can be just like your own neighborhood that you traveled in everyday,you just have to know how to navigate the city,without drawing attention to yourself. 

No one will know that you are a novice in the big city, if you do not   act like one(in any city).  As you adjust yourself in NYC at your hotel, you  can feel like you are with relatives if you think that way,(just imagine   that you're staying with family).
And remember,do not think 'that you're actually in a large City,(but pretend  that where you are is just an extension of where you live,and  you're just exploring another area within your own neighborhood).
Ihen you wont feel lonely and afraid in New York. (Pretending really works for me,even when driving  in another city. I just pretend I'm still driving in my own town,and I feel very comfortable and unafraid.
I do not even worry about what I would do if my tire(s) blow. Do you actually think about tires when you are driving in your own state?.
When you think negative,negative will happen, so think positive,and act bold,at-least pretend you are),
Before You Visit NYC
Read about New York City from a post,a blog, or from any "NYC insider guide" on the internet first,(if it's available).
Know where the shops,the  malls,the stores, the boutiques,the bus, the cabs,and even the trains are located,(just  have an idea where they are located).  
With a NYC insider guide, you will be more  alert of  happenings in the city,from a personal point of view. You will  be prepared to really explore  NYC with your NYC travel gift.
Know Where To Find Help
You should also know where to go for help if you need it.  Do not panic if you forget what to do,(at least you have an idea), Walk with confidence,(not  as a confused tourist).
Stop and look at things that  delights you - take pictures of any and everything you like, just be confident. My Nikon cool-pix P510,pays for itself a million times already,I  love my camera). My NYC travel gift was a pleasure to enjoy.
If you find yourself in a strange place that you didn't plan to be,(do not act lost).  Keep on walking as if everything is OK. Do not show sign that something is wrong. Enjoy even being lost,(it's  a part of the adventure).
You're utilizing your NYC travel gift to the fullest extent. (Just make certain that you extra cash with you. 
But  don't give the appearance that you have a lot of cash-(rolled up dollar bills). Then take a cab,(tell the driver exactly where you are going.
Or go to a bus stop(when the bus stop) Enter the bus and ask the driver for directions,(even if the bus is not heading in your direction.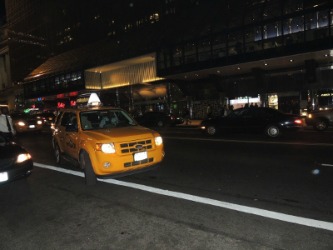 NYC Travel Gift-

Do Not Explore NYC at  Nights if You Feel Unsafe in the Daytime-
 



When utilizing your NYC Travel Gift,Just be sure you do not explore NYC at nights. Unless you have company with you,and they know exactly where they are going. 

If you do not know the city,(nights is certainly  not the time to find  out). A tourist can be spotted a mile away. Be a tourist,but do not allow anyone to know that.  

You are new to the city,(especially at nights when in a place of  entertainment). Do not act naive,(or foolish). I feel that I'm a tourist every-time I visit New York City,but who could tell?

I walk across the Brooklyn Bridge for the first time with my dog taking pictures,and by the time I arrive halfway across,I was just like everyone else there) on and off the bridge.
NYC Travel Gift To Explore The City By Yourself
I enjoyed my adventure. It was approximately 8pm when I headed back over to  Manhattan. 
I was taking night pictures too (of everything that  moves or stay still in the city), and I absolutely did not know anyone there.
I even saw many folks taking pictures at that time. Even  professional photographers were taking photos allover.). I always plan to have a good  time whenever I visit New York. 
At 8:pm, the streets were still crowded. I felt safe with the  crowd,even when I was walking alone, and I loved it. See what your adventure  will be like as you explore this great city,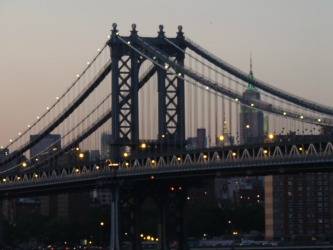 Gift Yourself This Fantastic Gift and Write About Your Vacation to New York City
Everyone of us have some story to tell.  Story about our life, our vacation,our experience with our career.
Make your life brighter. Share  your story with the world and earn revenue from it. Start your journey with Solo Build It, I did,and build this website). So gift yourself this fantastic gift and write about your vacation to NYC and more
Enjoy Your NYC Travel Gift- as You Stay in a Fantastic Hotel
You will need great accommodations after exploring NYC. And if  you plan to stay in the city,(your hotel should already be arranged and paid for),with your NYC travel gift.
You may want to stay at a hotel that makes you feel that you are enjoying luxury. Or you may want to stay in a moderate price hotel. Even a current discount hotel is great,(it's all up to you). 
You have many hotels to chose from. You may want to select a hotel close to the proximity of where you would like to visit and explore,but if you are in for the adventure then wherever you stay is quite fine. 
You just may have to utilize the bus,the cab. The NYC subway,or even  go walking to utilize your gift.
Explore Some of NYC Best Hotels
NYC have a lot of fabulous hotels to stay and enjoy as you explore the City.

Hilton Hotel, Located at 234 W 42 Street.  This hotel is within the vicinity of Madame Tussaud's Museum,where you will find replica of your favorite stars. You will enjoy your  NYC travel gift here.
You will find the Amsterdam Theater,Times Square, Penn Plaza where  major trains for you destination is located. 
And Depending on what you are looking for you can do some gift shopping in this area, Some amenities offered are a  Business,conference,meeting room center; fitness center,high speed internet access and more.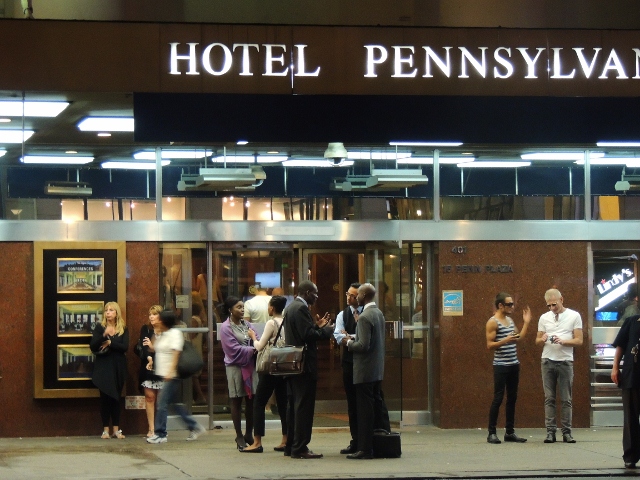 Pennsylvania New York Hotel-If your travel gift sponsor is  on a budget,but still wants you to enjoy this NYC travel gift. Then this hotel is a reasonable stay. Located at 33rd Street,house over 1000.
Close proximity  to Penn Station, the subway,Madison Garden.  It has a 24 hours business center with high speed wireless,fitness center.

You will find restaurants and load of places to visit.  Bring your little pooch along. You can find lots of stores around with souvenirs and NYC travel gift ideas to bring back home. 

Bear in mind,that if you're shopping for gifts in that area, (stores owned by Jewish individuals may not be open on late  Friday evenings,or not at all on Saturdays),so Sundays is the best time to shop for you NYC gifts.
Jumeirah Essex Hotel located at 160 Central Park South. This is an luxury elegant hotel,which is in proximity of Broadway,fifth Avenue and times square.
You will also find the Carnegie Hall,the Metropolitan Museum of Arts,the Radio City Music Hall,and the Lincoln Center close by to enjoy your NYC travel gift. 
Some amenities are Business center,concierge,dry cleaning service,fitness center.  Minutes to Broadway,5th Avenue,and Times Square. Carnegie Hall,the Radio City Music Hall,The Metropolitan Music of Art, and Lincoln Center